Round shape enclosure to control directivity:
The round part applied to the back side of the enclosure control the directivity. It is fabricated by 25mm board with special bending process and then, rigidity is increased by laminating additional 3mm thickness board, this way, the mighty internal sound pressure created by 3 woofers is caught and the standing wave which makes sound muddy is also attenuated. For the surface finish, we used a natural walnut veneer having the good grain of the board and the high gross paint finish. At the bottom of the enclosure, the large-sized chromed plating foot is equipped.
Omni reflection guide to make it possible high-fidelity sound through a 360°angle in a horizontal plane.
The Omni reflection guide set up at the enclosure top, which were planed from a lamination structure board, consists of four kinds on upper and lower sides and creates the feeling of an acoustic field stabilized by positioning correctly with the support bar made from aluminum.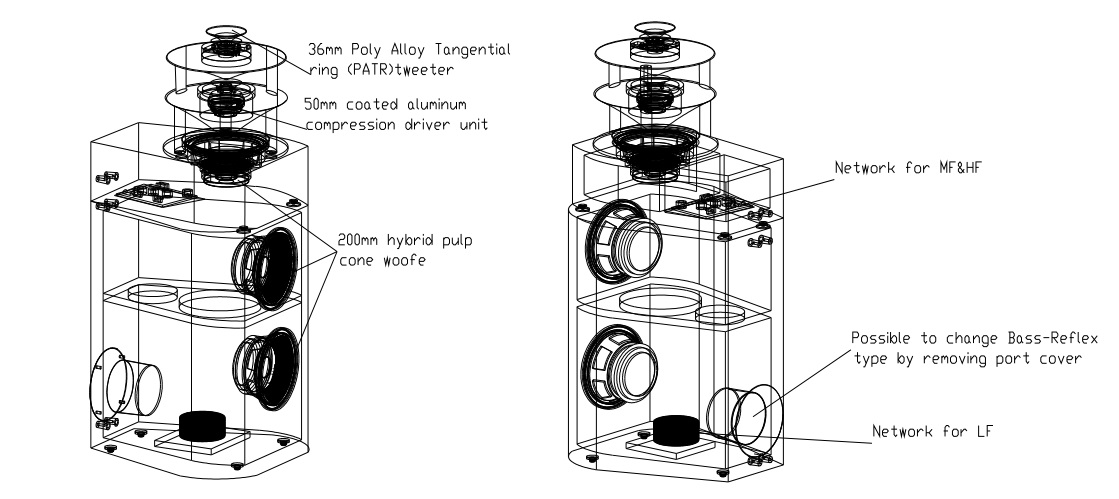 Spec:Model 4402
Type
4-way 5spekaers Omni-Directional closed type (possible to change Bass-Reflex type by removing port cover))
Speaker Unit
For HF unit: 36mm Poly alloy ring tweeter
For MF unit: 50mm coated aluminum compression driver
For LF unit: 200mm pulp cone woofer x 3
Max power
200W
Impedance
6Ω
Frequency range
35Hz ~ 40kHz
Sensitivity
90dB/W.m
Crossover Frequency
200Hz/1.6kHz/8kHz
External Dimension
(W)381mm×(H)1,100mm×(D)480mm (including Grille & Terminal)
Weight
48.00kg